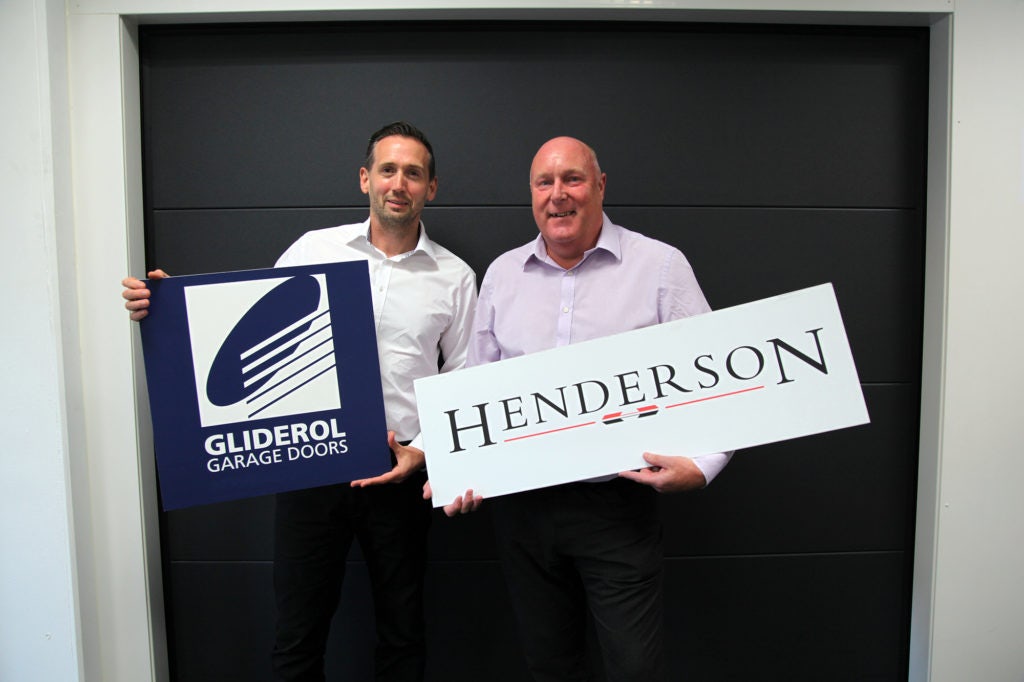 Sliding and folding door hardware manufacturer, P C Henderson, is pleased to announce its return to the garage door market with a premium range of sectional garage doors, via a strategic partnership with longstanding garage door manufacturer - Gliderol Garage Doors.
Henderson Garage Doors, first established in 1954, quickly became a household name and by the 1960's, P C Henderson had supplied approximately fifty percent of all garage doors installed in the UK.
Trevor Cossins, Managing Director at P C Henderson, commented, ''P C Henderson has a long standing relationship with the garage door industry, in 2008 P C Henderson moved away from the garage door market to focus on the sliding and folding door hardware element of the business. Due to increased interest, we are now taking back the brand and bringing a high quality range of Henderson Garage Doors to the market. We believe our portfolio of sectional garage doors provide our customers with the opportunity to expand and grow their businesses with a trusted and recognised brand.'
Prior to the UK garage door business being sold in 2008, Henderson's range of sectional doors had sold in the thousands and continually improved and evolved over the years to suit the needs of both the homeowner and the installer. Since 2008 those improvements have continued through state of the art manufacturing and distribution facilities in Europe and - whilst a small number of doors continued to be distributed around the UK - Henderson is now in a position to increase those numbers by working with Gliderol to provide the national coverage they can offer to customers.
Andrew Royle, Sales and Marketing Director at P C Henderson, commented, "Since 2008 we have continued to manufacture and supply spare parts in order to ensure all previous installations could be maintained – so we have always kept our foot in the door. We are now looking forward to growing that side of the business and offer an exclusive range of garage doors to the UK market once again".
The range is made up of two types of sectional door - the Henderson Smart 42 and the Henderson Superior 42. Both products are available in 5 models, 3 surface finishes, 7 standard colours as well as the option of RAL colours. The Superior door offers a number of features and benefits unique to that range such as concealed rollers, an integrated tension spring system - offering optimum safety as well as a minimalistic finish - and a ventilated floor seal which offers a continuous flow of clean air inside the garage reducing damp and mould growth.  Along with a range of optional extras and a state of the art remote control system, the possibilities are almost endless with a door to suit every home.
Roy Sinclair, Managing Director at Gliderol Garage Doors commented, "We're delighted to be partnering up with Henderson to bring this premium range of products back to the UK market. It's a brand which was - and still is - renowned in the industry for its high quality and outstanding performance. We have witnessed the state of the art production facilities first hand and have seen the trust and recognition this product has earned for many years - we can't wait to reintroduce it and we believe our customers will love it".
The new range of Henderson garage doors comes complete with a 10 year warranty and full working models can be viewed by visiting the Gliderol Garage Door showroom in Peterlee, Co. Durham. For more information or to request a brochure, contact Gliderol Garage Doors on 0800 834 250 or email sales@gliderol.co.uk.
Download the Henderson Garage Doors brochure Henderson Garage Doors Brochure.