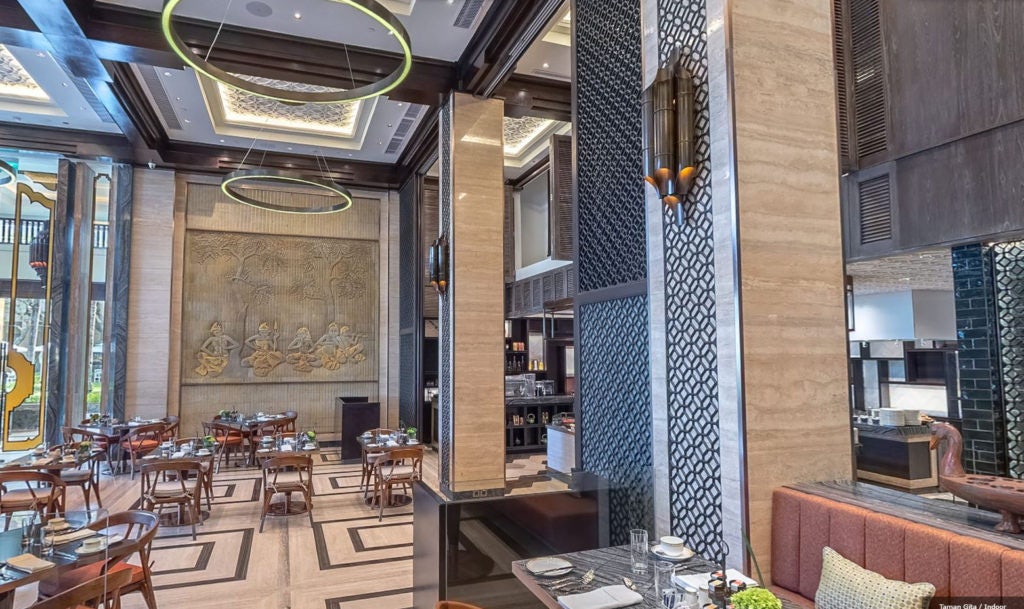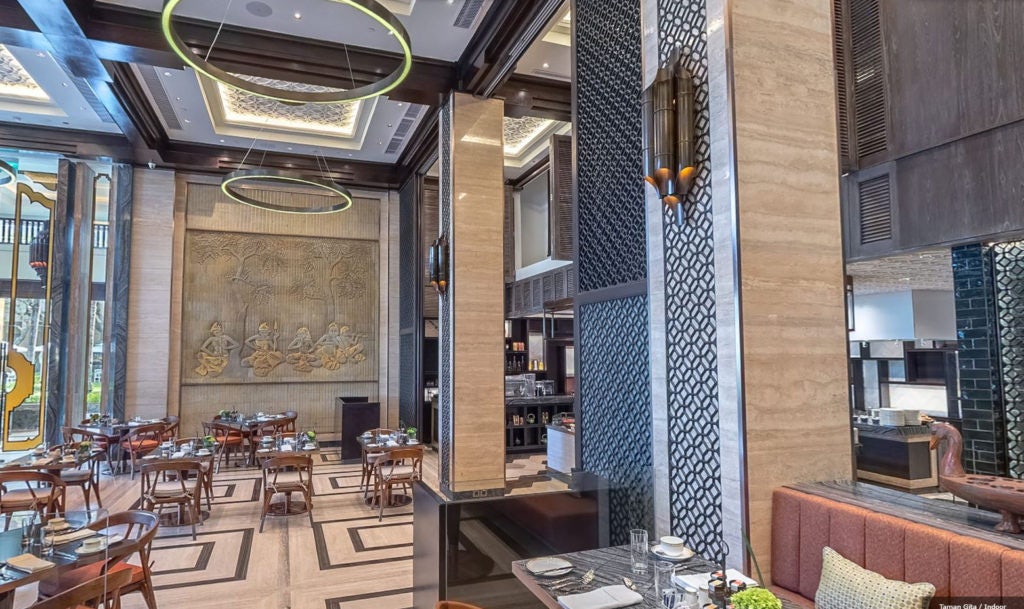 Indonesia based sliding and folding door hardware provider – P.T. Roda Bangun Mandiri – has recently specified P C Henderson for a sliding door hardware project at the Intercontinental Hotel in Bali.
The Taman Gita Restaurant, based within the hotel, has recently undergone an extensive refurbishment project which has given the restaurant a completely new look. The restaurant reopened its famous doors last year and now features an elegant, contemporary interior - accented with Balinese ornaments, high ceilings and monumental pillars.
Roda worked with interior design and consultancy businesses - Arcadis - to specify a sliding door system which could hold two large partition doors separating the dining area of the restaurant from the open plan kitchen. Measuring the full ceiling height of 5.4m, with a width of 1.4m the doors were extremely heavy - weighing approximately 230kg each. A system was required which could comfortably hold such large and heavy doors whilst also ensuring a smooth and effortless operation.
P C Henderson's Soltaire 250 sliding door hardware was specified as the best system for the project. With a maximum capacity of 250kg, the system comfortably supports the weight of the doors and utilises its low friction technology to provide a smooth fingertip operation. Components from P C Henderson's Telescopic system were also applied - allowing the two doors to traverse in a telescopic motion in front of a fixed panel.
The restaurant make over is part of a much wider refurbishment project, P C Henderson's Husky sliding door hardware was also specified for 300 plus hotel rooms at the resort.
[video width="848" height="480" mp4="https://www.pchenderson.com/wp-content/uploads/2019/07/f8279580-73e6-489f-960b-cae859b2e592.mp4"][/video]
Bernardus Rizky, Head of Sales and Marketing at P.T. Roda Bangun Mandiri commented "Roda has been a distributor of P C Henderson products since our establishment in 1974 and so we have a lot of confidence and experience in the quality of the product. Originally the contractor had specified a different brand of sliding door hardware but it was soon discovered that it would not support the extremities of the project brief. We were in no doubt that a P C Henderson system would be able to fulfill the project requirements exactly.
"Soltaire sliding door hardware is an extremely smooth system. The heavy doors are able to be moved with minimal effort and zero friction – proving the quality of the hardware used".
P C Henderson's Soltaire system is available for doors weighing up to 120kg, 180kg and 250kg. Available in kit pack format or individual specified components – the system is extremely flexible in the type of projects it can cater for. Made from 316 stainless steel, the system is available for interior and exterior applications, providing high levels of corrosion resistance.
See if you can spot our hardware by taking a virtual tour of the newly refurbished Taman Gita restaurant here.