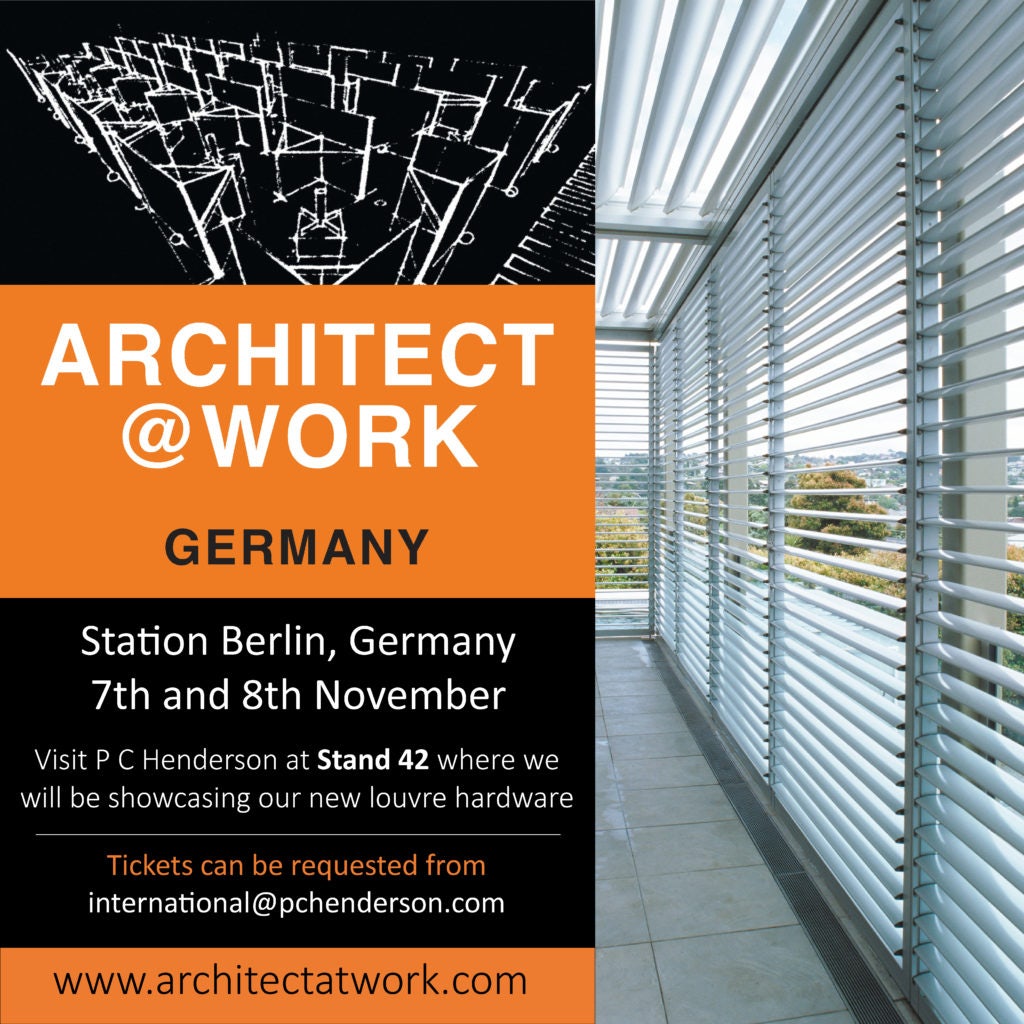 Shutter Slide - P C Henderson's innovative new louvre hardware will be launched to the market at leading design and architecture event - Architect at Work, Berlin, 7th and 8th November.
With our expertise lying in the field of sliding and folding door hardware, we have now put together a solid core product offering for external sliding louvre panels weighing up to 120kg. We will be exhibiting the new system at the Architect at Work tradeshow based in Berlin.
"With climates changing and an ever increasing demand for environmental and LEED (Leadership in Energy and Environmental Design) accredited specifications we've seen a huge rise in demand for this type of hardware. Louvre systems offer many benefits such as harvesting energy from the sun to heat a building as well as being used to trap heat within a building when used with the correct insulation panels. The system can also aid towards light reduction, sound insulation, flexible privacy options as well as the ability to enhance a facades architectural aesthetic appearance", commented Andrew Royle, Sales and Marketing Director.
Offering a variety of inspiring and functional design possibilities, the system is available in single panel, bi-parting and telescopic panel variants, as well as being available in either manual or electric operation.  The low voltage, energy efficient electric motors can be wired into the central control panel of a building, allowing the louvre panels to be opened and closed via a central reception area or alternatively by individual switches.
"Our previous experience in specifying for louvre projects has allowed us to carry out first hand research into the most common configurations and to understand a customer's exact requirements. Shutter Slide has been developed off the back of this research and so is extremely fit for purpose and incredibly easy for architects to specify", continued Andrew.
The system has already been specified for a prestigious high rise hotel with a number of projects also at planning stage. Manufactured using marine grade 316 stainless steel, hard wearing polymers and anodised aluminium the system is extremely robust, highly corrosion resistant and developed to withstand the test of time. Each variable component has been tested to 100,000 cycles, EN1527 and meets the robust ISO 9001 manufacturing standards.
Architect at Work offers a unique and innovative exhibition layout whereby all products have been presented for approval to a judging panel of architects and interior designers prior to being able to exhibit. The judging panel assess the innovative nature of each product, providing visitors with a great platform to view building and design based products which are leading the way in innovation.
The event is held at Station Berlin, Luckenwalderstrasse 4-6 on the 7th and 8th November between 11am and 8pm. P C Henderson will be based at stand 42 and we are anticipating high interest for our latest innovation. Visitors can enter free of charge with a personal invitation from P C Henderson, please contact international@pchenderson.com for your personal invite.