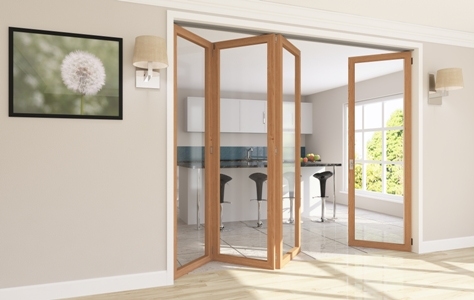 P C Henderson is pleased to announce the launch of our latest product – Roomflex.
Changing lifestyles, such as people working from home and multi-generational living, has led homeowners to seek more flexibility from the spaces they occupy. The launch of our brand new Roomflex hardware helps meet these ever changing needs.
Roomflex - an innovative, internal folding door system that has been designed to create and enhance flexible living environments whilst maintaining an open plan feel by fully opening up interior walls. What makes it different? Unlike other internal folding door systems in the Henderson range, Roomflex has been designed to completely eliminate the need for a bottom channel, allowing for an aesthetically pleasing, seamless walkway from room to room.
The system operates with effortless ease and combines the space saving benefits of folding doors without compromising on style or functionality. Homeowners can combine both open and broken-plan living by neatly storing the doors when the spaces are opened for entertaining or socialising. When closed the smaller rooms can be used for independent activities such as reading or catching up on TV shows or to simply reduce the space to what is necessary at varying times, minimising the cost of heating the property. Due to the components used the system, when closed, can also be used to reduce noise and smells, for example when used as a partition between a kitchen and living area.
Features and Benefits
No bottom channel necessary, eliminating trip hazards & allowing for a seamless walk way
Creation of flexible living areas and additional rooms
Capable of carrying doors of up to 35kg
Doors stack up neatly to match the opening space
For further information please contact our sales team on +44 (0) 191 377 7345 or email sales@pchenderson.com.